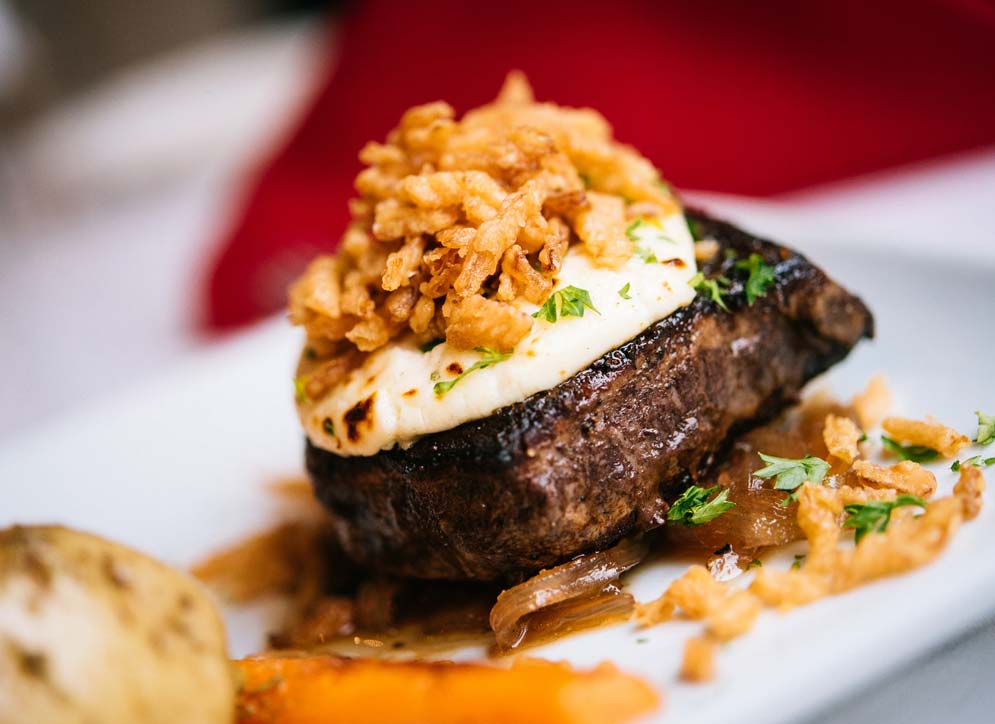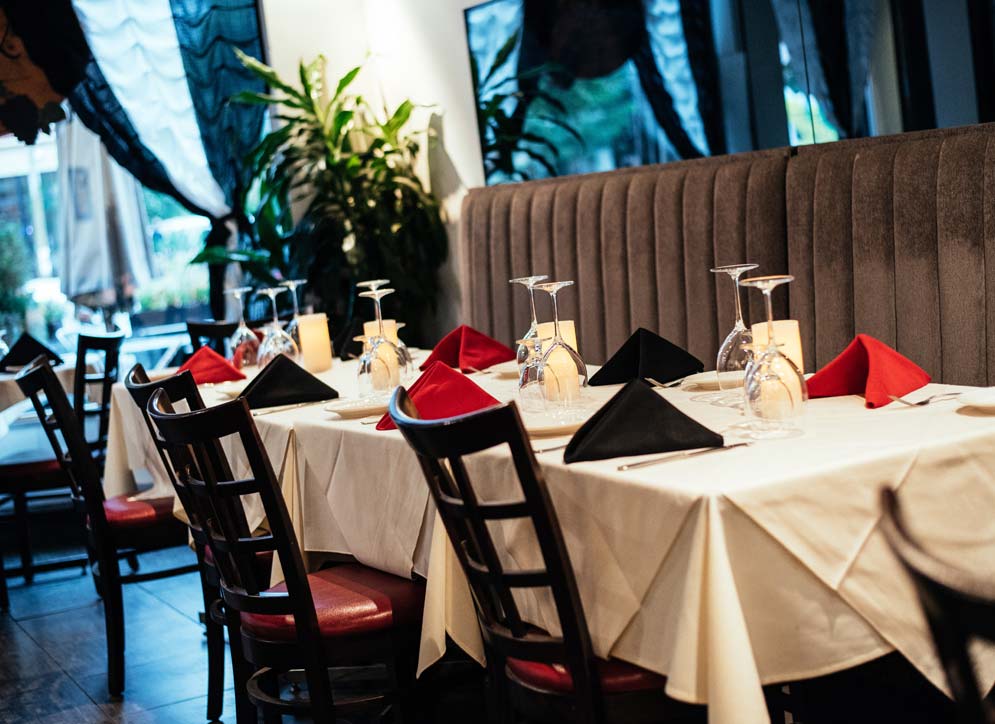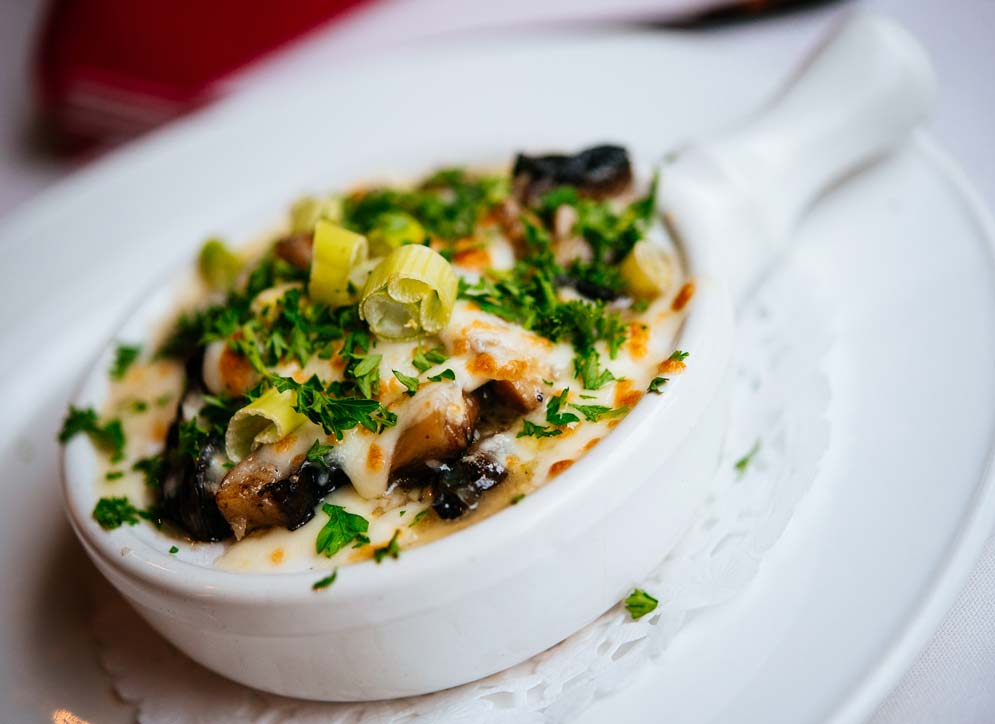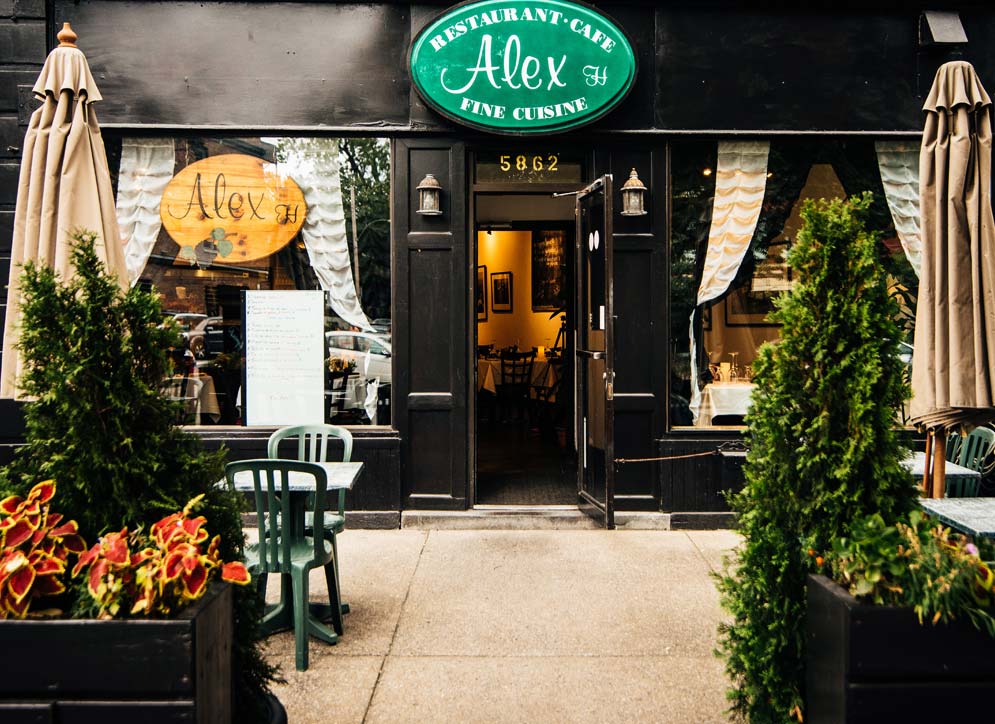 Welcome to Alex H Restaurant
Alex H was originally opened as "Gourmateque Restaurant" in 1982, located on St-Hubert street, it was already making headlines for it's great food. Most notably the home made lasagna, still found on our menu on occasion. The man behind this was Alex himself.
Alex already had restaurant experience from some of Montreal's greatest, such as, the Royal Embassy, Mother Martin, Grand Motor hotel, Elmridge country club, and the Ritz Carlton to name a few. Alex had decided he would want to offer the same fine dining experience at a more affordable rate.
Established in 1990, the original Alex H (on Monkland street) was family run for 10 years, until 2000, when it moved to Sherbrooke street where it is still found today. The next generation of Alex H was born.
Today a family trio runs the kitchen, Alex, his daughter Maria, and his son Edward. Every night they cook your meals with pride we hope you'll take the chance to experience the pride and care that goes into making every dish at Alex H.
Details & Features
Type

:

French
Features

:

Terrace, Patio, Award Winning, Bring your own Wine, Daily Specials, Events, Fine Dining, Group Functions, Local Foods, Open on Sunday, Wheelchair Accessible, WiFi
Payment

:

Visa, MasterCard, Interac, Discover Card
Price Range

:

$$$

$

»

Premium (Between $20 to $35)

Atmosphere

:

Cozy
Attire

:

Casual
Operating Hours
Hours may change during holidays or special occasions. Please contact the establishment for specific information.
Monday

:

5:30pm - 9:00pm
Tuesday

:

5:30pm - 9:00pm
Wednesday

:

5:30pm - 9:00pm
Thursday

:

5:30pm - 9:00pm
Friday

:

5:30pm - 10:00pm
Saturday

:

5:30pm - 10:00pm
Sunday

:

5:30pm - 9:00pm
Menus
Appetizers
Escargots bourguignon au gratin
french snails, portobello mushrooms, garlic, mozzarella, sharp cheddar, white wine, butter
Matane shrimp
Mangos, avocados, dill mayo
Eggplant parmesan
tomato sauce, ricotta, parmesan
House salad with french vinaigrette
baby kale, arugula, bell pepper, shredded carrot, tomato, cucumber, red cabbage
Lobster tail
garlic butter
Roma salad
Roma tomatoes, balsamic, goat cheese
Main salads
Salmon filet
Red onions, red peppers, cucumbers, radishes, avocdos, capers, fennel and truffle dressing
Roma salad
Roma tomatoes, balsamic, goat cheese
Grilled chicken breast
Red onions, red peppers, cherry tomatoes, mango, berry coulis, balsamic vinaigrette
Vegetables
Zucchini and grilled corn on the cob
Grilled duck breast
Red peppers, cherries, oranges, pecans, peanuts, berry coulis, balsamic vinaigrette
Main dishes
Salmon fillet with corn salsa
served on a bed of basmati rice
Veal calf liver with sautéed onions
served with mashed potatoes or fries
Chicken breast with creamy pepper sauce
garlic, black and red peppercorns, madagascar peppercorns, white wine, cream

served on a bed of basmati rice
Sirloin steak with shiitake mushrooms
served with mashed potatoes or fries
Please call us to find out about our daily specials!
Some dishes may contain alcohol
Desserts and beverages
Bread pudding with banana
Note: menu is subject to change
* Menu items and prices are subject to change without notice and are displayed for informational purposes only.
Reservations
Please take a moment to fill out our online reservation form and search for availability. If you require immediate assistance, please call us directly.
Contact
Alex H Restaurant
Phone :
(514) 487-5444
Email :
alexhresto@yahoo.com
5862 Rue Sherbrooke Ouest
Montreal, QC
H4A 2N5
---
Directions
Enter your address including your city to get detailed driving directions.
* The directions provided by this site are for planning purposes only. You may find that construction projects, traffic, weather, or other events may cause conditions to differ from the map results, and you should plan your route accordingly. You must obey all signs or notices regarding your route.